The Five Biggest Craps Winners of All Time
When, where, and how these five craps players hit the jackpot…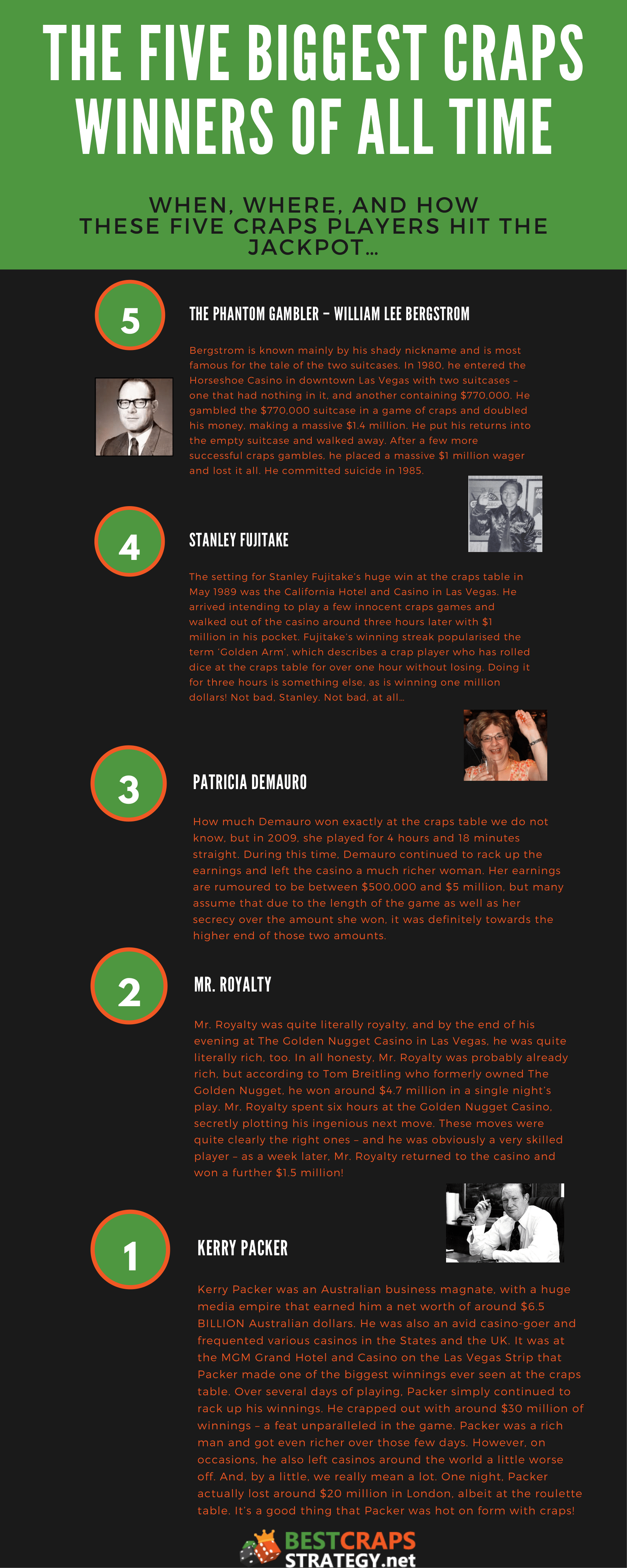 5 – The Phantom Gambler – William Lee Bergstrom
Bergstrom is known mainly by his shady nickname and is most famous for the tale of the two suitcases. In 1980, he entered the Horseshoe Casino in downtown Las Vegas with two suitcases – one that had nothing in it, and another containing $770,000.
He gambled the $770,000 suitcase in a game of craps and doubled his money, making a massive $1.4 million. He put his returns into the empty suitcase and walked away. After a few more successful craps gambles, he placed a massive $1 million wager and lost it all. He committed suicide in 1985.
4 – Stanley Fujitake
The setting for Stanley Fujitake's huge win at the craps table in May 1989 was the California Hotel and Casino in Las Vegas. He arrived intending to play a few innocent craps games and walked out of the casino around three hours later with $1 million in his pocket.
Fujitake's winning streak popularised the term 'Golden Arm', which describes a crap player who has rolled dice at the craps table for over one hour without losing. Doing it for three hours is something else, as is winning one million dollars! Not bad, Stanley. Not bad, at all…
3 – Patricia Demauro
How much Demauro won exactly at the craps table we do not know, but in 2009, she played for 4 hours and 18 minutes straight. During this time, Demauro continued to rack up the earnings and left the casino a much richer woman. Her earnings are rumoured to be between $500,000 and $5 million, but many assume that due to the length of the game as well as her secrecy over the amount she won, it was definitely towards the higher end of those two amounts.
2 – Mr. Royalty
Mr. Royalty was quite literally royalty, and by the end of his evening at The Golden Nugget Casino in Las Vegas, he was quite literally rich, too. In all honesty, Mr. Royalty was probably already rich, but according to Tom Breitling who formerly owned The Golden Nugget, he won around $4.7 million in a single night's play.
Mr. Royalty spent six hours at the Golden Nugget Casino, secretly plotting his ingenious next move. These moves were quite clearly the right ones – and he was obviously a very skilled player – as a week later, Mr. Royalty returned to the casino and won a further $1.5 million! The Aristocratic European family that Mr. Royalty belonged to would have been sitting even more comfortably after his craps endeavours.
1 – Kerry Packer
Kerry Packer was an Australian business magnate, with a huge media empire that earned him a net worth of around $6.5 BILLION Australian dollars. He was also an avid casino-goer and frequented various casinos in the States and the UK. It was at the MGM Grand Hotel and Casino on the Las Vegas Strip that Packer made one of the biggest winnings ever seen at the craps table.
Over several days of playing, Packer simply continued to rack up his winnings. He crapped out with around $30 million of winnings – a feat unparalleled in the game. Packer was a rich man and got even richer over those few days. However, on occasions, he also left casinos around the world a little worse off. And, by a little, we really mean a lot. One night, Packer actually lost around $20 million in London, albeit at the roulette table. It's a good thing that Packer was hot on form with craps!