Uptown Aces Casino Review – A Place of Many Bonuses and Craps Action
Renowned as an Internet gambling venue that holds special dedication to its USA players, the Uptown Aces online casino opened for business in 2014. Although often described as being dedicated to slot gaming in general, this establishment proved to be an exceptional starting point for players who wanted to train their craps strategies and spin the reels of top-notch slots. In today's Uptown Aces casino review, we will completely investigate and analyze every aspect of this certified venue and see if it is the place you're looking for!

---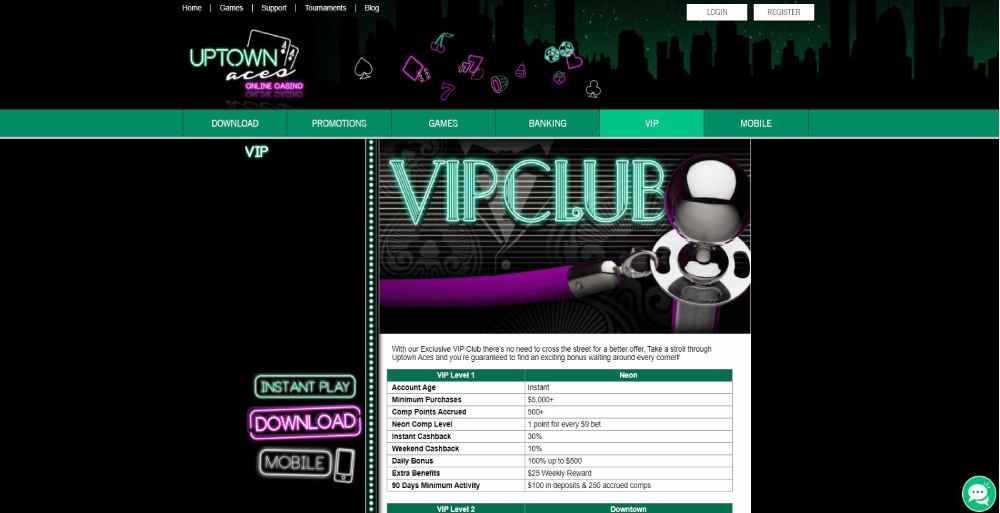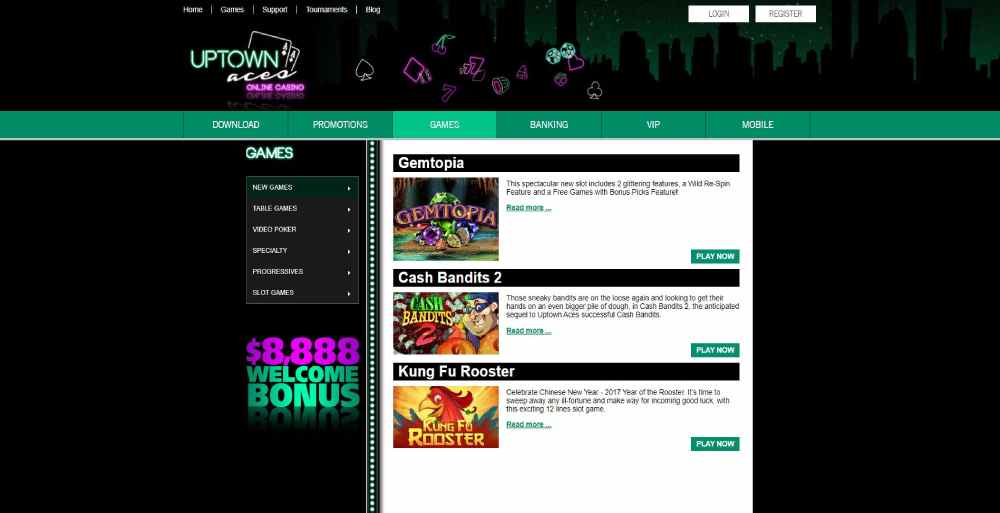 Generous Daily, Weekly & Monthly Deals
Comp Points for Additional Craps Bets
Windows Software Available
---
---
---
The Uptown Aces Craps, Slots, and All Other Games
The first thing we should mention is that all of the gaming titles found on the website will be provided by none other than the software company RealTime Gaming (also known as RTG). With that being said, the approximate number of all online casino games here is 213. Separated into Table, Slots, Video Poker, and Specialty sections, the instant titles within them offer both quality and gameplay variety.
The only online casino craps game here comes in "instant form". Just like all the other games in the roster of Uptown Aces, Craps is also produced by RTG, and its overly simple interface is actually one of its strongest points. The minimum bet limit here is $1, while the maximum $500 (for the entire table)!
There are four chips that can be used to place a bet, and they will have the following values: 1, 5, 25, and 100. What should be noted is that all of the available betting fields will have a permitted betting maximum of $100.
On the other hand, if you don't like spending your real cash just yet and you would like to try a specific Craps strategy without having to risk anything, simply access the gaming roster and open the game!
Just like all other games in the Uptown Aces roster, all a player has to do is access the "specialty" section and open the game. The Uptown Aces online casino will immediately credit 1,000 "fun dollars", and if a player runs out, they can simply refresh the browser's page.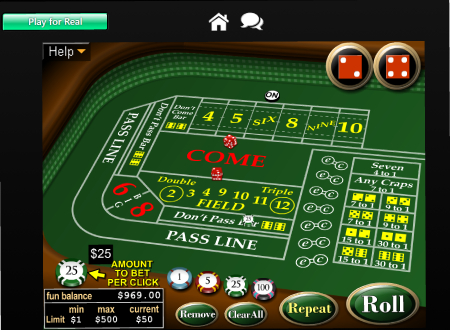 The Uptown Aces Casino Bonus Codes Open a World of Opportunities
| Promotion Type | Bonus | Bonus Code |
| --- | --- | --- |
| Welcome Offer 1 | 250% deposit match, up to $2,500 + 50 free spins | UPTOWN1ACES |
| Welcome Offer 2 | 150% deposit match, up to $1,500 + 50 free spins | UPTOWN2ACES |
| Welcome Offer 3 | 100% deposit match, up to $1,000 + 50 free spins | UPTOWN3ACES |
| Welcome Offer 4 | 100% deposit match, up to $1,000 + 50 free spins | UPTOWN4ACES |
| Welcome Offer 5 | 100% deposit match, up to $1,000 + 50 free spins | UPTOWN5ACES |
| Welcome Offer 6 | 188% deposit match, up to $1,888 + 50 free spins | UPTOWN6ACES |
| Table Games 1 | 150% deposit match, up to $750 | TABLEACES1 |
| Table Games 2 | 75% deposit match, up to $750 | TABLEACES2 |
| Low Playthrough Welcome Offer | 100% deposit match, up to $100 | 100ACES |
| Deposit $20 for Spins | 100 free spins | 100ADDEDSPINS |
We couldn't help but notice that the Uptown Aces online casino bonus program is exceptionally populated! The venue will start you off with a welcome bonus of up to $8,888 spread over your first six deposits and then move to other interesting promotions. Bear in mind that the initial welcome offer will provide the player with a deposit match bonus sum and a number of free spins. Additional promotions in the Uptown Aces casino bonus program will include table game bonuses, bitcoin promotions, no-deposit offers, and many other interesting schemes that a player is bound to enjoy.
A small downside, however, is that people who would like to play craps with bonus funds won't be able to, as none of the promotions seem to include the game as a factor. Unfortunately for dedicated Craps players, none of the bets they place on the dice game will even count towards the contribution of any wagering requirements. Regardless, here are some of the Uptown Aces casino codes you can use to get something a little bit extra:
The Comp Points Can Provide You with Additional Craps Bets
For every $10 a player spends playing on any game in the Uptown Online casino (including craps), the venue will grant the player a single comp point (CP). Once they have at least a minimum of 100 comp points, they can exchange them for real money at a rate of 100 CPs per $1. Any cash redeemed in such a manner will have an x1 wagering requirement, but after that is completed, players can either request withdrawal or use their newly-acquired funds to place a bet – including on the craps table!
The VIP Program Might Enhance Your Uptown Aces Craps Experience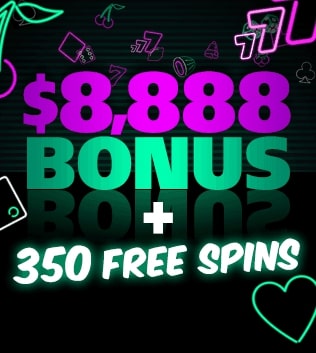 The online casino has designed a VIP program in mind that allows players to take better advantage of already-present bonuses while gaining access to additional offers. There are four VIP levels in total (arranged from lowest to highest): Neon, Downtown, Midtown, and Uptown. Becoming "Neon VIP" and progressing up the ladder will be determined by the amount of money a player has deposited in the casino and the number of points they have accumulated from the creation of their account. For example, in order for players to reach the first VIP level (Neon), they will need to have deposited more than $5,000 and gathered more than 500 CPs.
Being a VIP improves the rate at which comp points are gathered, which is how craps players can get most of their experience in the Uptown Online casino. In addition to better accumulation rate, players will be able to enjoy a number of other benefits such as instant cashbacks, weekend cashbacks, daily bonuses, and additional VIP level benefits, such as faster withdrawals, higher betting limits, a "no max betting" rule, and much more.
We should also mention that in order for you to keep the status of your first two VIP levels (Neon and Downtown), you will need to fulfill certain conditions, which obligate the player to deposit a specific amount of money (or more) and accumulate a number of comp points over the course of 90 days. Once a player has reached the third or fourth VIP level, they won't have to worry about these specific conditions, as "Midtown" and "Uptown" statuses are granted for life (or until the account has been closed by the player).
There Is an Incredible Collection of Daily, Weekly, and Monthly Deals
Although this online casino doesn't offer a variety of craps titles, players will find that there is definitely no shortage of bonuses and promotions. Once you've made your free registration in the casino, all you would have to do is visit the cashier section and check the "coupon" button. You will discover that there are more than 15 bonus offers active at all times, which provide numerous deposit matches and (or) free spins.
The Uptown Aces casino codes for all those offers are shown in their promotional banners, meaning that you can easily look them up and activate them. If you want to see even more bonuses and promotions, you can visit your online casino profile's message section, where more than 10 additional offers will be made available to you. Additionally, there is a pretty good chance that if you contact customer support, they will provide you with more Uptown Aces casino bonus codes or activate a no-deposit promotion for you on the spot!
The Uptown Aces Online Casino Is Differently Optimized for Other Platforms
Players can experience the Uptown Aces online casino in three different ways – on their mobile devices (via browser), on their computers (via browser, and in download form). Players that want to experience the full gaming roster that the venue has to offer will need to download and install the computer software (available for Windows OS only). They will find the same Craps game present in the browser version of the casino, in addition to many other games; in fact, the downloadable version contains the largest selection of RTG titles with an approximate number of 315 games!
Unfortunately, mobile players will get the "short end of the stick" due to the fact that not all games are made on HTML5. With this being said, it is understandable why the mobile roster will have a smaller number of gaming sections and titles. Those who choose to access the casino via their Android and iOS smartphones and tablets will have access to only around 125 games. Unfortunately, given the fact that the only Craps game in the Uptown Aces online casino is made on the software platform Flash, it won't be available for players that use mobile devices.
Plenty of Banking Methods at Your Disposal
It is no secret that when online casino services are being offered in the USA, there is a pretty limited availability when it comes to withdrawal and deposit methods. On the other hand, Uptown Aces is regarded as one of the venues that provide one of the largest varieties of payment methods in the United States. The casino is also one of the few ones in the USA that supports deposits and withdrawals in cryptocurrency (Bitcoin, Litecoin).
We should also mention that all banking methods will have their own fees and transfer times. In regards to making withdrawals, only the Bank Wire option will have a fee of $60, while the other ones will be free. The maximum payout amount for any available withdrawal methods that can be requested is going to be $2,500.
Credentials and Accolades
The Uptown Aces online casino is licensed by the Gaming Control Commission Board of every jurisdiction the venue's services are being offered in. All of the casino's functions and features are protected by 128-bit SSL encryption protocols, which guarantee safe transactions between a player and the casino platform. Uptown Aces also displays the "CDS Certified" seal on its website and has stated that the RNG algorithm used in all of its gaming software has been tested by the TST facility and verified to be truly random.
Refine Your Craps Strategy in the Uptown Aces Online Casino
Although the Uptown Aces online casino doesn't seem to offer the environment for passionate craps players, it is actually the best place to start, especially if you're new to the game. The instant craps table has not only decent betting limits and payout odds but also a free version that will help every beginner to make the transition to "real money betting" at their own pace.
Uptown Aces seems like a logical choice for all sorts of online casino players, especially those from the USA – the venue's generous promotions and platform features are more than enough to satiate the needs of any player. Although currently there aren't any Uptown Aces craps bonuses, some might appear in the future, so make sure you check that player profile often!