Bonus Craps Review – A Game with Potential for Big Wins
Changing or modifying the game of craps isn't an easy task, and when casino game developers try to do so, they learn that the players tend to get back to the most classic alliteration of the game. One particular version that was created by the company Galaxy Gaming, managed to capture the interest of hardcore players, and establish itself as a new standard. Enter, Bonus Craps. At its very core, this game operates under the standard rules of the genre; however, there are a few things that make it special. Take a look.
The Craps Bonus Options Expand the Gameplay
The new addition to this particular game, are the three new proposition wagers – they are called "All Small", "All Tall", and "Make 'Em All". One of the features of every single one Craps Bonus bet, is that a player can make them only on a Come Out roll. Furthermore, it should be mentioned that any craps table bonus wager will count as a "game within a game" and will be completely independent of any other bets that are made. Due to the fact that they provide great winning odds, they are loved by beginners, and seasoned players alike.
Top 3 Online Casinos which offer Bonus Craps
#
casino
bonus
payout limit
withdraw method
rating
learn more

Exclusive Casino

250%

bitcoin

master card

visa

+2 more

Domgame

Up to 300%

visa

master card

Wire transfer

+3 more

BoVegas

Up to $5,500

visa

master card

bank

+3 more
The Rules and Conditions of Every Craps Bonus Wager

The way this works, is that when a player wants to make a bonus bet, they will need to wait for the beginning of the game, which means, a seven has to be previously rolled so the gaming round can begin anew. If a player decides to wager on All Small, then they essentially gamble on the chance that all of the small numbers (2, 3, 4, 5, 6) will be rolled before a 7. All Tall bets affect 8, 9, 10, 11, and 12, and Make 'Em All affects all possible numbers – 2, 3, 4, 5, 6, 8, 9, 10 and 11. Players can place their wager on one, or on all of them!

Once a bonus bet has been made, its winning condition will depend on the numbers being thrown before the dice produce a 7. When the dice land on a number shown in the particular bet, the dealer or boxman will mark it with a special token on the craps table. If the dice produces a number that isn't in the bet, the game continues until the selection is completed, or a seven is produced. If a seven comes up before the completion of the sequence of numbers, the player will lose their bet.
Why Do Players like This Craps Variant So Much?
The reasoning is simple – the bonus bets in this game have appealing odds payouts. For example, successful All Small and All Tall pay 34 to 1. With most casinos out there having a minimum table betting limit of $5, a win will produce a reward of $170. While the chance of hitting a full Make 'Em All is pretty slim, it will bring a theoretical win of $750 on a $5 bet – because its payout odds are 150 to 1. In some cases (depending on the casino), Make 'Em All pays 175 to 1! These side bets are incredibly popular in Bonus Craps Gaming, which is why it continues to be so popular.
The Game's Relationship with Online Casinos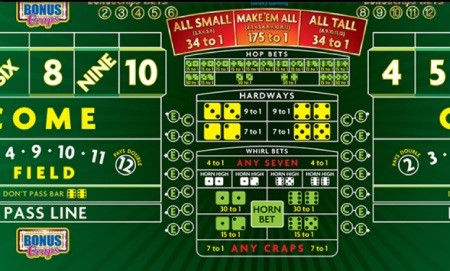 So far, we couldn't find an online casino craps version with these special bets. While this is somewhat of a drawback, it is understandable why this is so – craps games in online casinos are known to have lower minimum betting limits. While this doesn't affect the game in any particular way, players will be more inclined to place a bonus bet almost every time, which might not prove beneficial to the online casino operator in question.
A Good Addition to Every Strategy
Players who are usually ahead in their gaming session would often place their money on all possible bonus bets. It isn't uncommon for craps to produce long streaks of throws (until reaching the dreaded 7), which provides a greater chance for hitting either All Small or All Tall. The latter, on the other hand, is often more times placed than its counterpart, as the dice combinations won't require the shooter to land a combination of the same numbers; for example, the only way a player can have the number 2 marked on their All Small bet, is if the shooter produces two ones (Snake Eyes).
The bonus bets in this type of craps are meant to enhance any additional strategies. Usually, seasoned players recommend betting the minimum that the table allows. The fact that the bonus side bets operate in a different phase than the main game, provides more chances for a player to get a win. If you have the opportunity to play this version of the game, then you can definitely enhance your best craps strategy!